Reclaimed Vintage Galvanized Bucket Fountain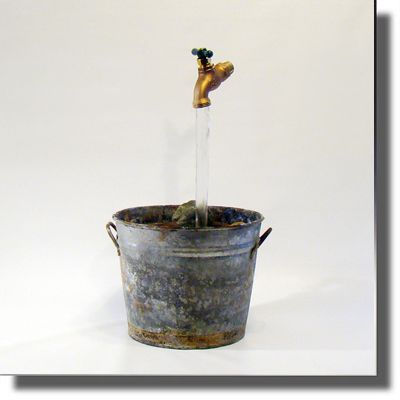 Yes, what you see is what you get. That is a real outdoor garden faucet floating magically in mid air while pouring water into a never-filled water container. This naturally aged, (15 plus years) Galvanized Bucket really shows off the illusion. If you want to make a classic statement in your home, or garden, you can't go wrong with this galvanized bucket fountain. This is one of our most popular styles and it's not hard to see why: it is simple but stylish. It looks at home in any decor. Easy to set up and maintain, this will be a conversation piece that lasts for years.
Reclaiming and sealing the interiors of these one of a kind bucket fountains cans is a more time-consuming process, But, the long-lasting results speak for themselves!  While the container appears rusted on the outside, on the inside it is not, and the custom , naturally weathered finish makes a very nice addition to your place!

Dimensions:
Container = 8.5 inches wide, 7 inches high.
Faucet Height = 17 inches.

Please Note: Rocks are not included but are required for the proper operation of our Faux-Flow© Fountains.