Glass Vase Faucet Faux-Flow DELUXE Fountain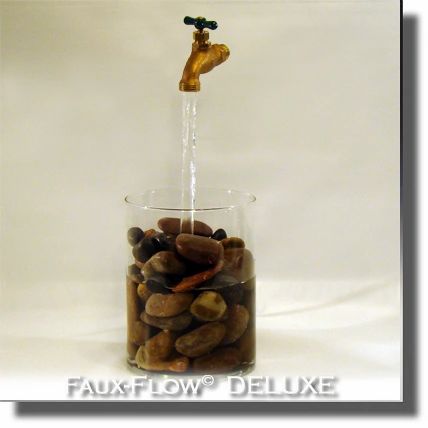 Yes, what you see is what you get. That is a real outdoor garden faucet floating magically in mid-air while pouring water into a never-filled water container. This beautiful glass gathering vase really shows off the illusion!
This is a product in our Faux-Flow© DELUXE series. That means that you get absolutely everything you need. Our DELUXE series is designed for easy and complete setup. Even the water ships with our DELUXE models! You can setup in less than 10 minutes and mystify your friends for hours!
Be sure to choose your rock preference when ordering. The polished river rocks for this model come in mixed colors or all black as shown in the photograph.
Availability: Usually ships within 5 business days.
Product ID: 7004
Dimensions:
Container = 6 inches wide, 8 inches high,
Faucet Height = 15.5 inches.