Traditional Style Watering Can Fountain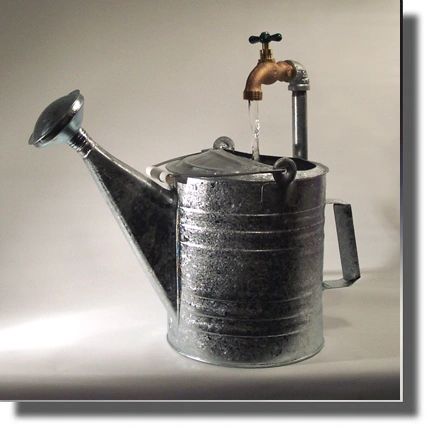 This classically styled, galvanized watering can will be a great conversation piece for your garden! The gentle sound of flowing water will bring serenity to your patio or yard, and the never-filled bucket will wow your friends! A good choice if you want to bring some traditional charm to your home.
2.5 Gallon Watering Can Constructed With Pre-Galvanized And Hot-Dipped Galvanized Metal Cans.
Galvanized And Brass Plumbing Fixtures Are Securely Attached With Sealed Fittings.
Each Fountain Includes:
A High Reliability Submersible Pump Requiring Minimal Maintenance.
6 Foot Electrical Cord Allows Flexibility For Electrical Connection To Approved Grounded Source.
Availability: Usually ships in 2-3 business days.
Regular price: $165.00
Sale Price with FREE shipping: $153.00
Product ID: TFC-470
Dimensions:
Container = 8.5 inches wide, 9 inches high,
15 inches to top of bail
17 inches long, (from front of rose to back of handle)
Faucet Height = 15 inches.