English Style Watering Can Fountain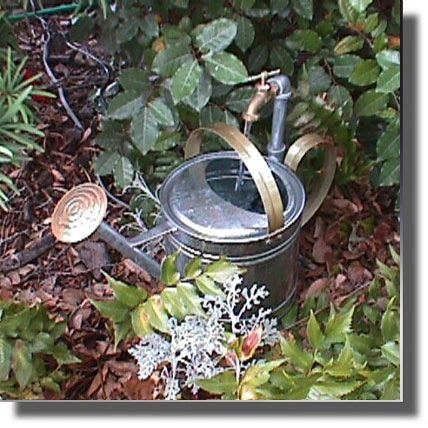 This chic watering can will bring the English countryside to your garden or porch. The handles and accents are brass and really are the key to its appeal. The water flows from the faucet but never fills the bucket – friends will be fascinated!
Overall Height 15.0 Inches.
2.5 Gallon Watering Can Constructed With Pre-Galvanized And Hot-Dipped Galvanized Metal Cans.
Galvanized And Brass Plumbing Fixtures Are Securely Attached With Sealed Fittings.
Each Fountain Includes:
A High Reliability Submersible Pump Requiring Minimal Maintenance.
6 Foot Electrical Cord Allows Flexibility For Electrical Connection To Approved Grounded Source.
Availability: Usually ships in 2-3 business days.
Product ID: TFC-450
Dimensions:
Container = 9 inches wide, 9 inches high,
14 inches to top of bail
20 inches long, (from front of rose to back of handle)
Faucet Height = 15 inches.