Old Solid Copper Peened Bucket Fountain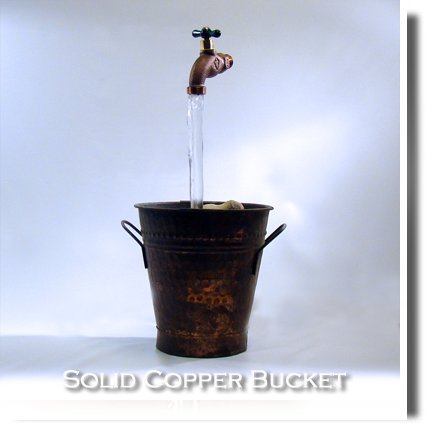 One of these. Found in the way back of our stock. This bucket is at least 10 years old and weathered every bit of it. Interior rim has the tell tale blue green copper patina. Out side is weathered with occasional shiny copper patched, all over the peened solid copper bucket. A true find.
The natural ageing of the bucket and the illusion of the magic faucet is sure to catch some eyes.
Availability: Usually ships in 3-5 business days.
Product ID: 6015

Dimensions:
Container = 7.25 inches wide, 7.5 inches high,
Faucet Height = 17 inches.
Please Note: Rocks are not included but are required for the proper operation of our Faux-Flow© Fountains.